Two teams of our legendary ambassadors recently tore up the kitchen in an epic skaters vs surfers cook-off. They created two mouth-watering limited edition burritos which are flying in red hot to all Beach Burrito restaurants today. Now, we need your help to crown the winning burrito and decide who reigns supreme in the kitchen: the kings of the ocean or the lords of the concrete bowl?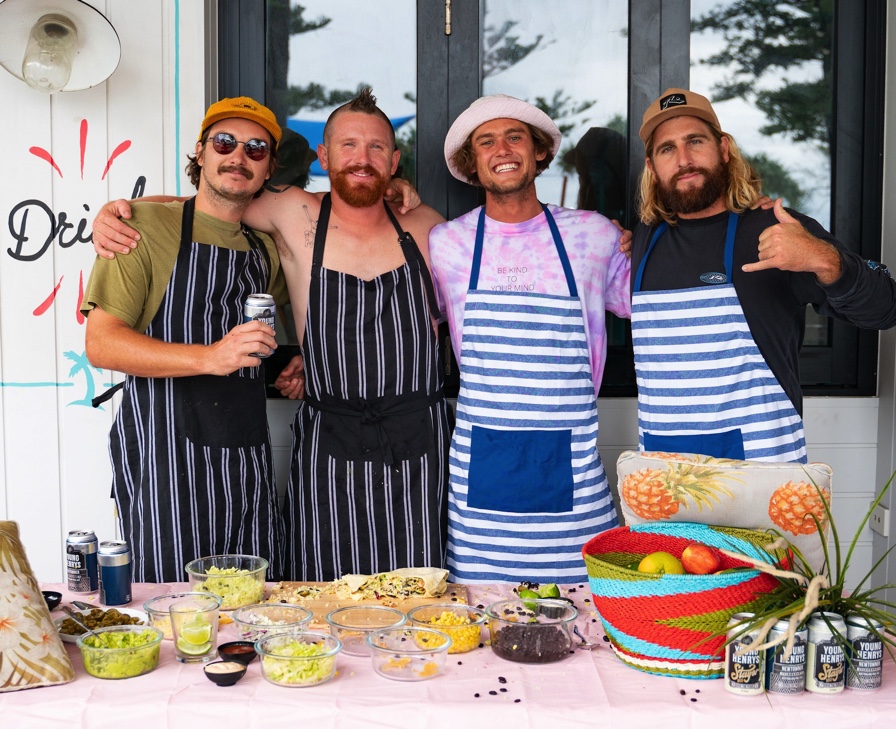 After decades of friendly banter between surfers and skaters about who can whip up the tastiest Mexican bean tube, we decided to take one for the team and settle this debate good and proper. A few weeks ago, we (gently) threw some of our beloved ambassadors into the Coolangatta kitchen to (not so gently) throw together their dream burritos. It was absolute anarchy. Skaters Jesse Noonan and Jackson Pilz, and surfers Wade Carmichael and Cooper Chapman introduced us to some new burrito-making techniques, including drizzling the tortilla with beer, fist-bashing the cornchips, and squeezing the fresh lime with your chompers. These shredders literally poured blood, sweat, and tears into their burritos (of course we can take out the blood, sweat and tears if you're allergic). Check out the mayhem.
Now, the decision of which burrito out-yums the other is up to you. How do you decide? Just head to your local Beach Burrito and order whichever one tickles your pickle more to cast your vote! AND if the thought of these delicious Mexican morsels isn't enticing enough, you can feel good that a portion of your purchase will shoot straight to Beyond Blue. Covid times have been incredibly challenging for some and these legends are committed to providing information and support to help people achieve their best possible mental health.
Let's meet our players and their Mexican masterpieces!
Representing the skaters – pro skateboarder and everyone's favourite larrikin Jesse Noonan, and the all-terrain guru and Australian Skater of the Year Winner Jackson Pilz.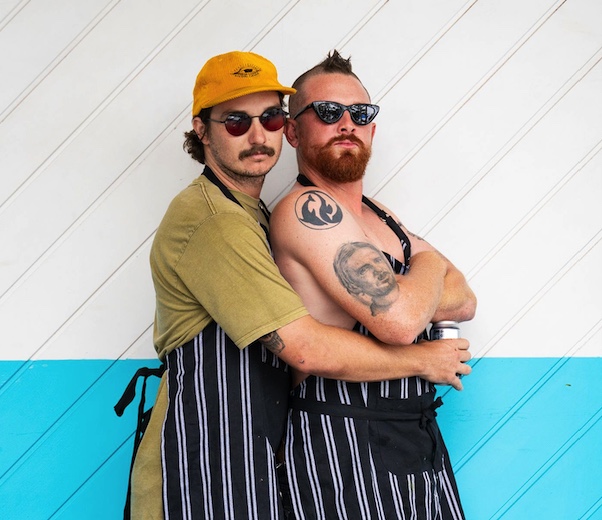 Everyone knows diamonds are made under pressure, but are banging burritos made under pressure too? We chucked a quick 2 minutes on the clock to up the pressure and test this out. Although the boys didn't deliver diamonds (weird), they did deliver one of the crunchiest, tastiest burritos we've ever wrapped our chops around – The Macho Nacho.
It's chock-full with fried karate chicken, rice, black beans, zingy guacamole, cheese, jalapeños, slaw, crushed corn chips for that nacho crunch and a drizzle of jalapeño mayo for extra kick. Vegetarians can swap out the chicken for jackfruit so you can indulge in the deliciousness too.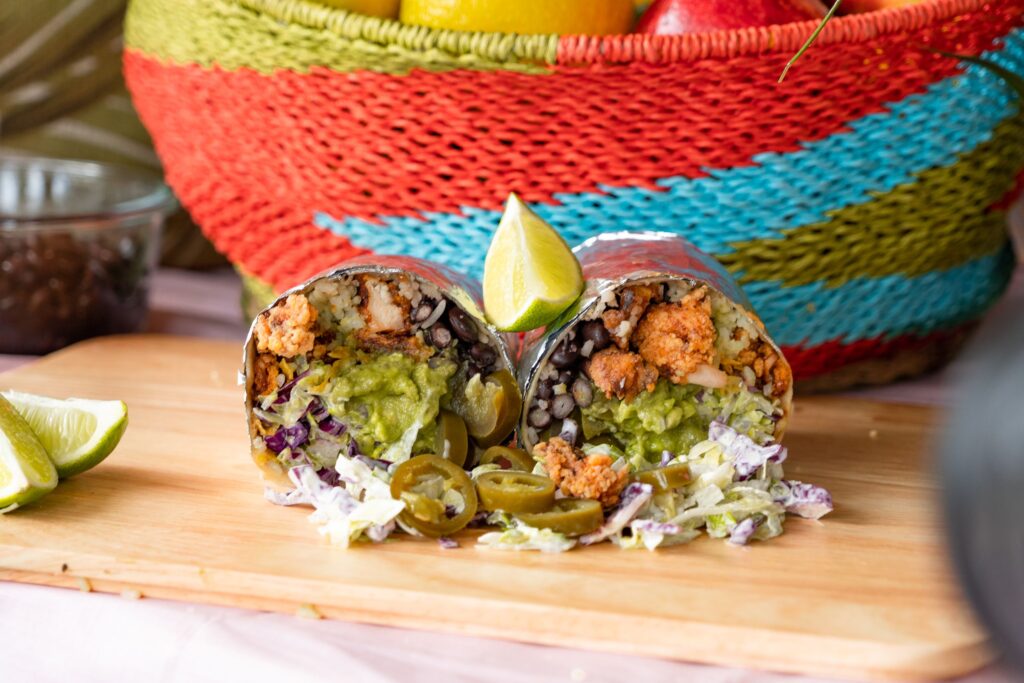 Up against this heavy hitter of a burrito is the surfers' juicy creation – The Big Kahuna. Leading the shenanigans was World Championship Tour surfer Wade Carmichael with pro surfer and Good Human Factory Founder Cooper Chapman. The boys proved they can charge in the ocean and the kitchen, dishing up a delicious number to sink your teeth into.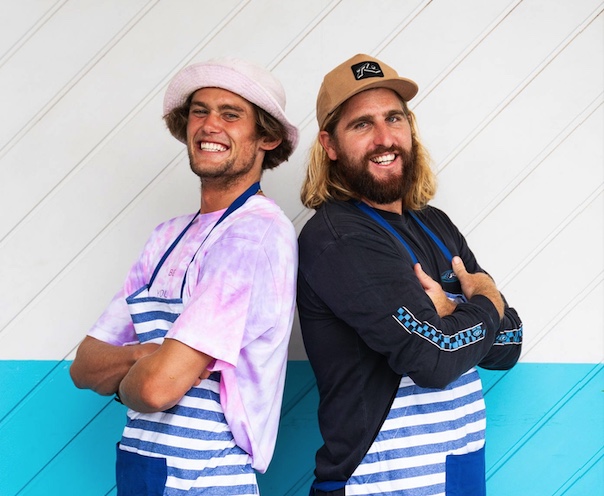 The Big Kahuna is a flavour bomb bursting with grilled chipotle chicken, pineapple salsa, hot chips, shredded lettuce, pico de gallo, cheese, chipotle mayo and jalapeños for a double hit of spice, plus crushed corn chips baked fresh in Wade's secret apron-pocket oven. The boys have also recommended swapping the chipotle chicken for jackfruit if that's more your thing.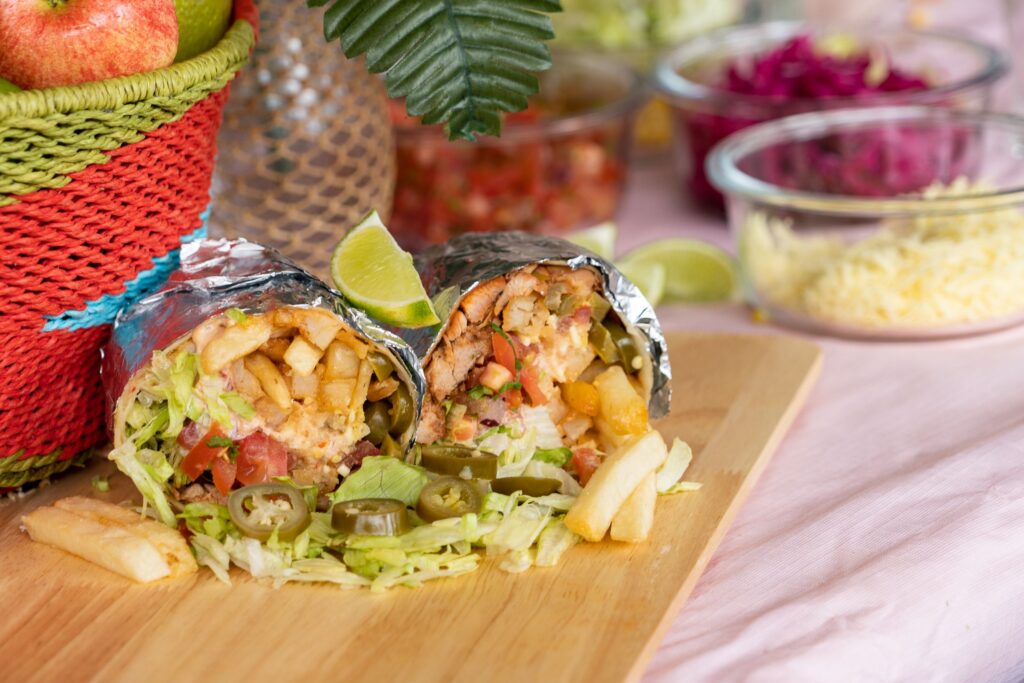 The Macho Nacho and The Big Kahuna will be waiting for you at your local Beach Burrito for a limited time, so swing by and let's settle this thing! Bring your crew, order a few and help us decide which team takes out this nail-biting burrito battle: surfers or skaters? The highest selling burrito will be crowned champion! Order yours here