Dimity Stoyle, the latest legend to join our lineup of Beach Burrito ambassadors, is a surfer by day, DJ by night, and good-time bringer despite what the big hand points to. A slave to the wave and the rave cave, you can find her ripping through Gold Coast point breaks or tripping the light fantastic behind the decks at local joints. We snagged a quick chat with Dimity to get up to speed with her latest antics!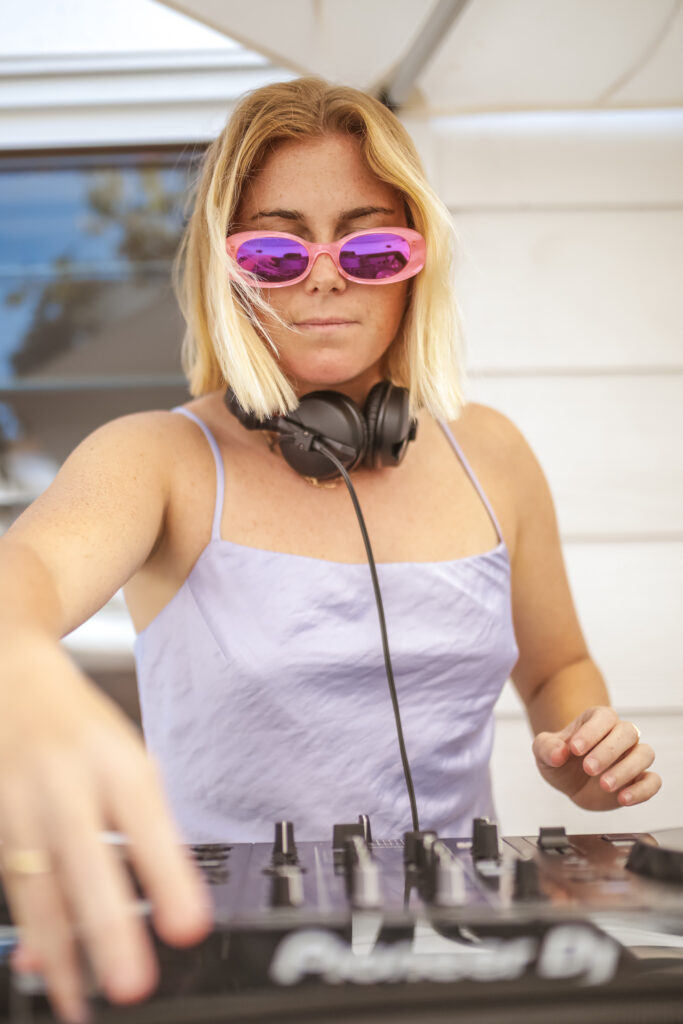 She's back home in Rainbow Bay, just up the hill from Coolangatta Beach Burrito, after two months on the road commentating on the World Surf League Championship Tour around Aus. Dimity has previously spent two years competing in the CT but this entirely new role was a throw-ya-in-the-deep-end kind of adventure.
"They just sort of said, 'off you go, do your thing!' It was kind of crazy because they didn't train me, they just asked me to get my phone into people's faces and pull some video together."
Dimity's breezy banter with the incredibly famed surfers in her behind the scenes videos makes you feel like you're just witnessing a bunch of mates talking smack on the sand. Which makes sense when you discover that's exactly what was going down.
"We've literally all grown up surfing with these guys and girls since we were about 14, we know each other really well, and even the ones that people don't get to talk to much like Gabriel Medina and John John Florence got around it a bit! Everyone was a lot closer this trip because no one could really travel with their support crew. It was super nice."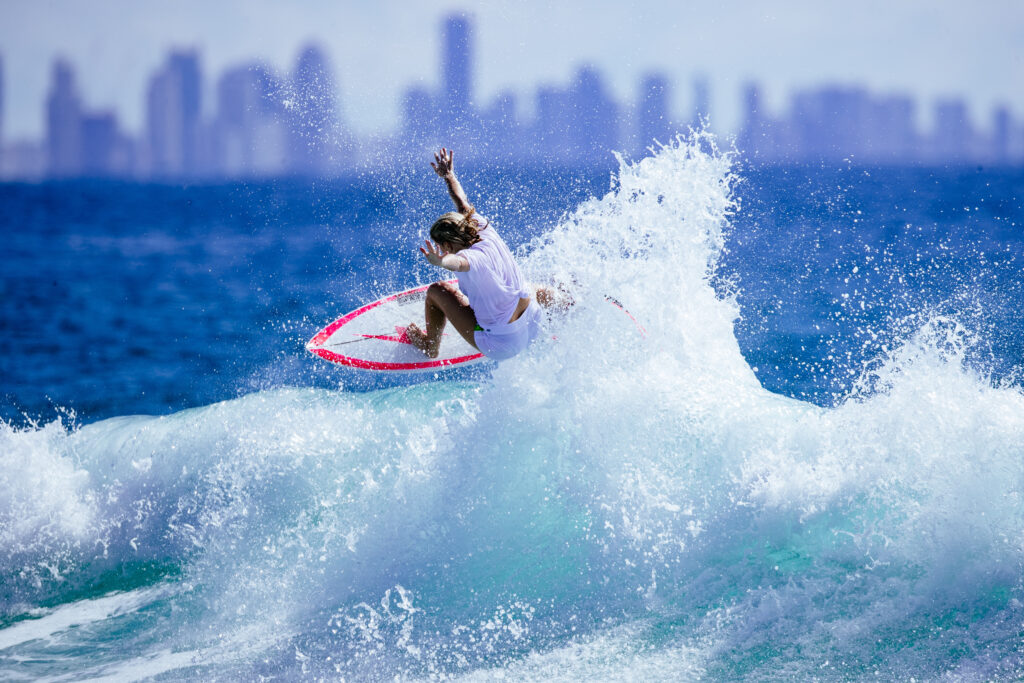 When 2020 did its quintessential 2020 thing and ruled out overseas wave-chasing for Dimity and her mates Stephanie Gilmore, Macy-Jane Callaghan, Nikki van Dijk and Tyler Wright, they bunkered down together in the Gold Coast. The waves were constantly pumping and local filmmaker Dan Scott was floating about, so, naturally, they produced a full-length, all-female surf film together.
"We actually had a little group text called The Turtles because Dan would text us all at about 7am saying 'where are we surfing?!' and we'd get back to him at about 9:30-10am, like 'oh, we're ready to surf now… let's go!'"
This feel-good, wave slashing film, aptly named 'Surfing', makes you want to do just that – get out there and surf. It premiered in late April in Sydney's Northern Beaches, and just dropped on the interwebs over the weekend for free, fantastic, lockdown viewing. Feast your eyes below.
"We had a huge premiere in Mona Vale with all five of us girls together which was awesome… and since then we had another one at Margaret River when the WSL event was on, and another one at Burleigh Pavilion that I DJ'd after, it was so fun."
Dimity essentially morphs into a human disco ball every weekend, spinning certified hip shakers at bars around the Goldy as her DJ alter-ego, Shimmy Disco. Proudly outing herself as "that one kid at every high school party that had to control the iPod", she said her brother taught her the basics of DJing in her teens. We'd pass her the aux cord any day with rug-cutting tracks like the ones in this mix.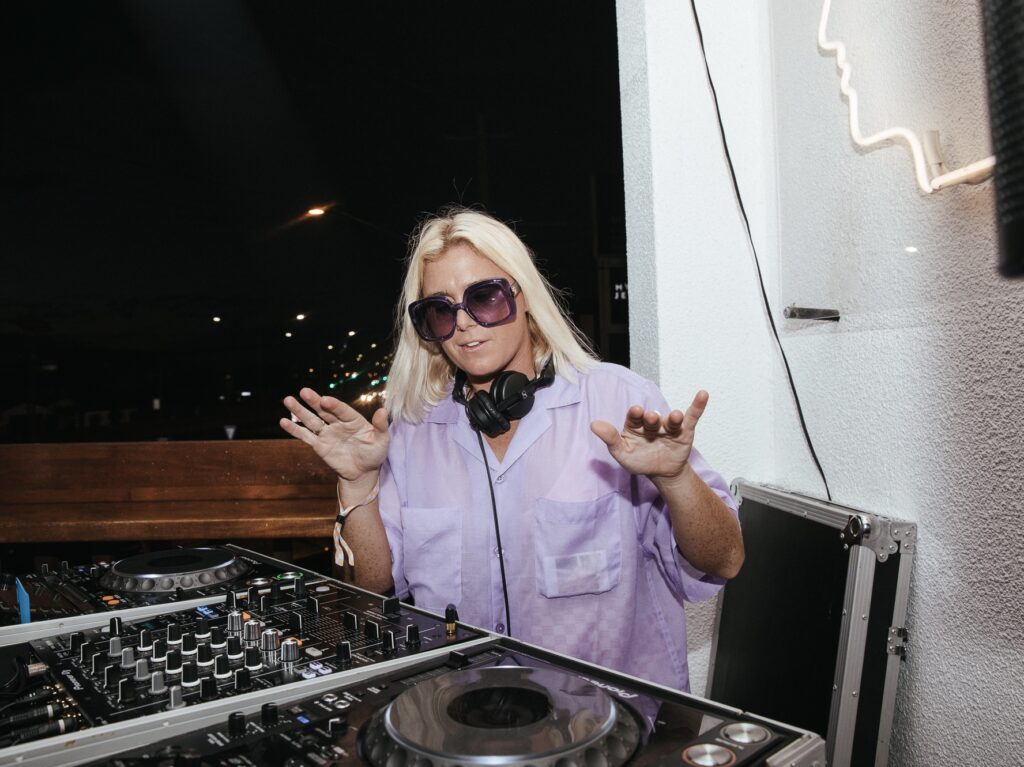 Right now, Dimity's relishing in the slower pace of life after two hectic months away on the Championship Tour.
"I went from traveling all year round for 10 years, to not travelling for a whole year, to hitting the road for two months straight. So it's pretty nice to come home and enjoy what we have here, especially in Cooly. It's just so beautiful"
And as for what's fuelling her at her local Beach Burrito in Coolangatta, "I'd say straight off the bat a margarita… coconut margaritas are my absolute favourite. But I'm also just obsessed with getting chips and guacamole and then tacos. Options, ya know?"
Ya, we know. Suffice to say we're beyond stoked to have Dimity join the crew. You can witness the fitness on her insta here, or keep up to date with all things Shimmy Disco here.


Words by Tess Fuller
Images supplied