Glenelg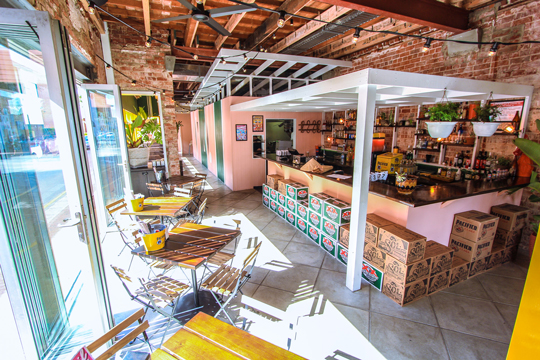 Designed as a tribute to the Australian mid century beach house, Beach Burrito Glenelg is located a stones throw from Adelaide's most popular swimming destination, Glenelg Beach.

ph:(08) 8376 3772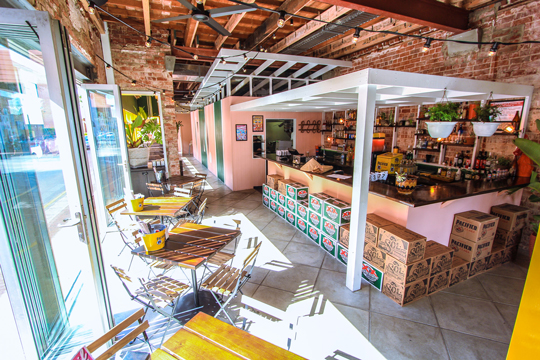 Beach Burrito Glenelg is distinctly split across two levels. The spacious downstairs offers a casual dining experience complete with concertina doors and an open air courtyard.
The upstairs dining area boasts two separate balconies, as well as ample seating for functions, birthdays & corporate events. Prolific palm tree patterns feature heavily throughout the space, alongside raw natural textures and subtle lighting creating a relaxed and inviting atmosphere.
Designed to mirror the look of a 1960's beach house the welcoming entrance invites you to stroll in straight off the beach. Pull a up chair at the bar and sip on ice cold Mexican cerveza while smashing down your favourite tacos! 
With an extensive menu and regular weekly specials Beach Burrito Glenelg has something for everyone. Taco's are pick of the bunch offering a cheap feed and the chance for newbies to mix and match various flavours and combinations.
Wether it's a casual afternoon watching the world go by, or a quick tecate while waiting for your takeaway nachos, Beach Burrito Glenelg is a sure thing. Wether it's a school night or Friday knock-off's…come and join the fiesta and treat yourself to the best time in The Bay!
See you soon Amigo! 
Trading Hours are:
MONDAY-THURSDAY
11am-930pm
FRIDAY – SUNDAY
11am-10pm
56 Jetty Road
Glenelg 5045
South Australia
In a hurry or would rather enjoy your favourite Burrito from the comfort of your living room?
Fear not we do Takeaway!
To order takeaway please call our friendly staff on the number below.
Please note: Beach Burrito endeavours to answer your call as quickly as possible, however during busy periods we may not be able to answer immediately.
ph:(08) 8376 3772