Well amigos, we've decided it's time for you to meet your new fav band – 'Busseys'. Hailing from Adelaide, South Australia, indie rock three-piece Busseys are setting themselves up for a breakout year in 2020 (even with the undeniable music industry handbrake that is, COVID-19)
Fresh on the scene, these guys have already shared the stage with the likes of Spacey Jane, British India, Mosquito Coast, and Aussie favs Lime Cordial. Not to mention, they have even graced the balcony at our Glenelg Beach Burrito venue multiple times, which we are convinced is every bands dream.
Now with the recent release of their debut EP Pyjama Party things are about to go next level for these 3 muchachos. The EP is dynamic, vibrant and jam packed with personality. Busseys truly leave you throwing your arms in the air, like you just don't care.
We digitally sat down with the trio (Dan, Brock and Xavier) to get an insight to the band's origin and the stories behind the EP.
Hola Busseys, how we feelin' today? Ready to taco about some stuff? (lol)
Hey Burrito pals, just had a hearty curry. Sorry. 3 nights of BBC in a row would've been too much of a good thing. Anyway, keen to get into it!
How long ago did you guys meet and start playing tasty tunes together?
Well, high school sweethearts Brock and Dan met back in 2010, and first started making music together in 2016. We knew of Xav, but the three of us didn't really spend any time together until 2018, when a friend suggested a talented young drummer that we should jam with for our upcoming project 'Busseys'. They weren't available, so we caught up with Xav instead, and the rest, as they say, is the rest.
What's the inspo / story behind the name 'Busseys'?? Sounds like if you had a little baby pet bus, thats what you'd call it – or am I way off?
WELL, it isn't not 'not' from not having a baby pet bus, alas, the name originated elsewhere. While travelling through Europe, Brock and Dan had an adventure-filled night including losing each other in the London Underground, nearly getting mugged, and a place called Bussey Building. That night felt like it encapsulated so much of our friendship, which is what the band was built off of, so we just kinda named the band Busseys and didn't think much more about it. Now you've brought it up, we wouldn't mind getting a baby pet bus though.
What are some of the influences to your Bussey sound?
I suppose the basis of our sound comes from bands like Red Hot Chili Peppers (every indie-rock band has to), Spacey Jane, the Ruminaters, Lime Cordiale and the Pretty Littles. Some of our newer material is being influenced by some different stuff like Brockhampton, Snail Mail, and the Beach Boys – this will probably start to come through a bit more on our upcoming work.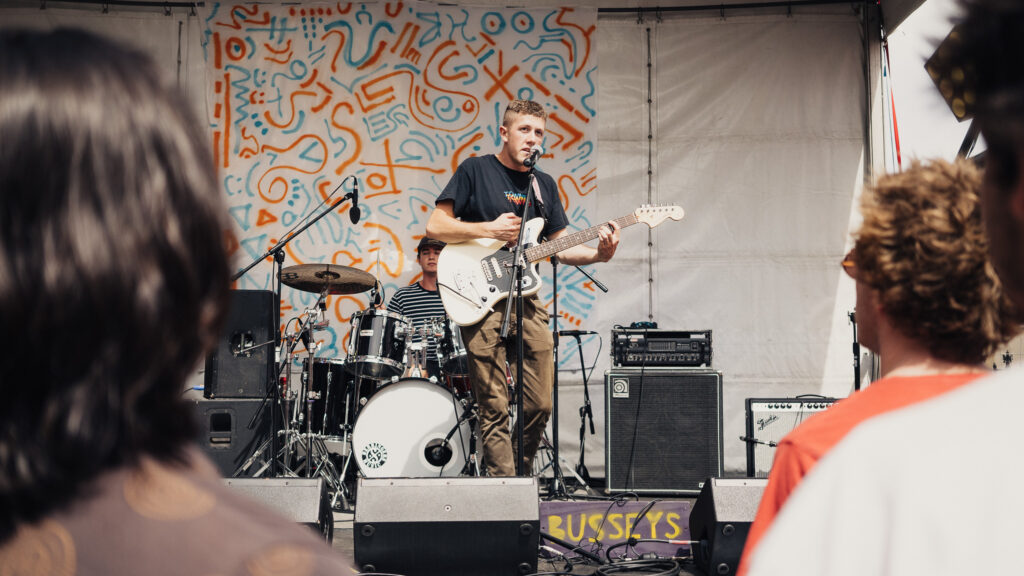 Give us your funniest / best story to happen on tour or at a show? Time to throw your band mates under the bus here…..
Last year we drove to Melbourne for our first interstate show. Throughout the whole drive from Penola to Melbourne, one of us would routinely bring up the fact we had nowhere to stay. This ongoing joke/laziness of not booking accommodation became a reality when all three of us found ourselves standing outside of the parking garage at 5:30am the next morning, waiting for it to open up so we could get into the car and finally get some sleep. It should be noted that there is a visible green stench leaking from the car (the silver bullet (Dan's mum's car)) to this very day.
Now, you've just released your debut EP 'Pyjama Party' (congrats btw) – how long has this been in the works, and what is the general theme behind the EP?
Thank you! Just My Luck was actually the first Busseys song ever written (late 2017), but left our set list for a while until we gained a newfound love for it and brought it back from the EP. Better Than Nothing, Lazy, and Straw Castles have all been around since mid 2018. Red and Looney were both written last year (2019), so this EP has been a long time coming. The general sound of the EP is energetic, upbeat indie rock, and the lyrics focus around ideas like failed relationships, self-reflection, and good times. The pyjama aspect of it is literally because Brock and Dan found matching red and blue pyjamas at an op shop, then we bought a pair of white pyjamas that we spray painted green for Xav (yes we know that we could have dyed them stop bringing it up we already feel stupid) and thought it would be funny to call the EP 'Pyjama Party'.
How has the almighty COVID shaped or changed the way you released the EP? What have you guys taken away from this whole situation as a band?
We're really lucky in that we were already planning a break from shows in the lead up to our EP release, so it didn't disrupt our plans too much. We did have to ditch plans for shows that we wanted to play to promote the EP – however we look at this as a positive because it allowed us to step back and focus on honing our craft, writing new music for our next release, and putting energy into other aspects of the band.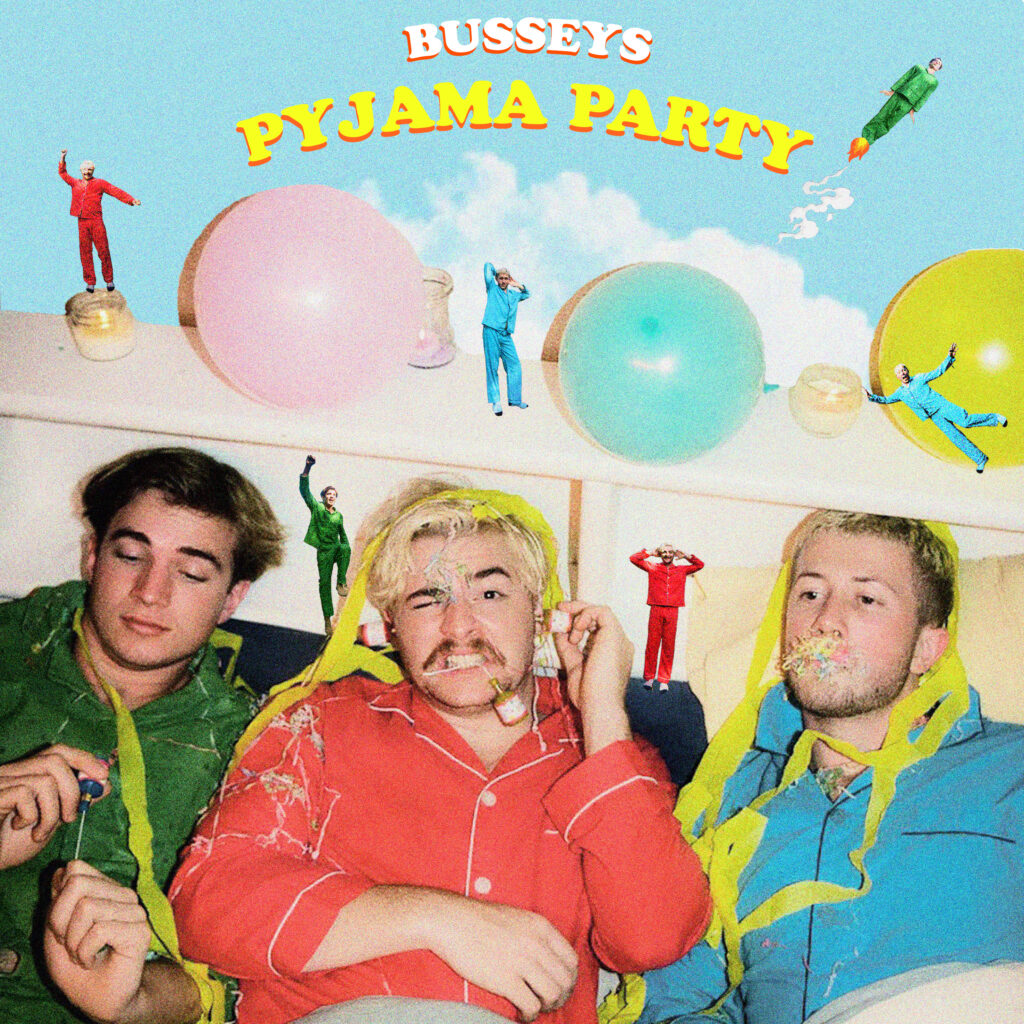 Once you can start playing gigs again, where are you guys touring? What's the ideal place you want to play?
Hopefully if SA stays reasonably COVID free we can put together some sort of regional tour. Places like Port Lincoln, Streaky Bay, Mount Gambier, Riverton (Xav's hometown) and any other town that'd like to have us really would be sick to include as a part of that. As soon as interstate travelling is allowed we would love to head around the rest of Australia. The sooner the better. We have even talked about doing an Aus Beach Burrito tour, hitting up all the locations for a show. Could we though?? aha.. please?
In 12 months time, where do you want to see the Busseys at? Stadium rock tours with the Foo Fighters supporting, or something a little more low-key?
Hahah haven't heard of the 'Food Flighters' but if they want to get in contact with us we are always happy to support other new local bands! Srs though we would love to start playing more interstate shows and would be amazing to play some sets in festivals. Festivals are always a fun time. In the meantime, while restrictions are around we are looking to focus on making new music and putting on whatever shows we can in SA. Also have a music vid in the works to keep everyone entertained from home.
Thanks for having a chat with us muchachos, we can't wait to see you playing at one of our venues veryyyyy soon (we hope!). Where can people find your tunes? Anywhere and everywhere?
No, thank you! Please have yourself a listen to some songs via Spotify below or Soundcloud , Apple Music and Triple J Unearthed.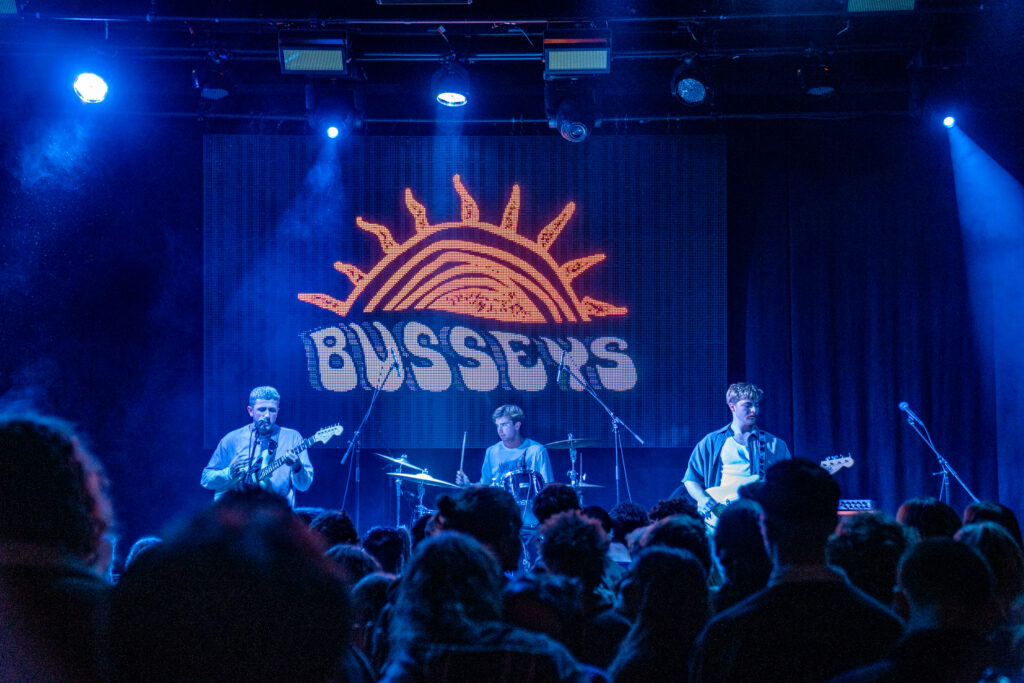 Words by Tom Redden.
August 12th 2020