2020's BOWLZILLA scraped through as the last international professional skateboard competition before COVID dropped in and everything grinded to a halt (skateboarding references are set to get a flogging here, sorry amigos). The festival is back with a vengeance this year and ready to inject more positivity into the scene.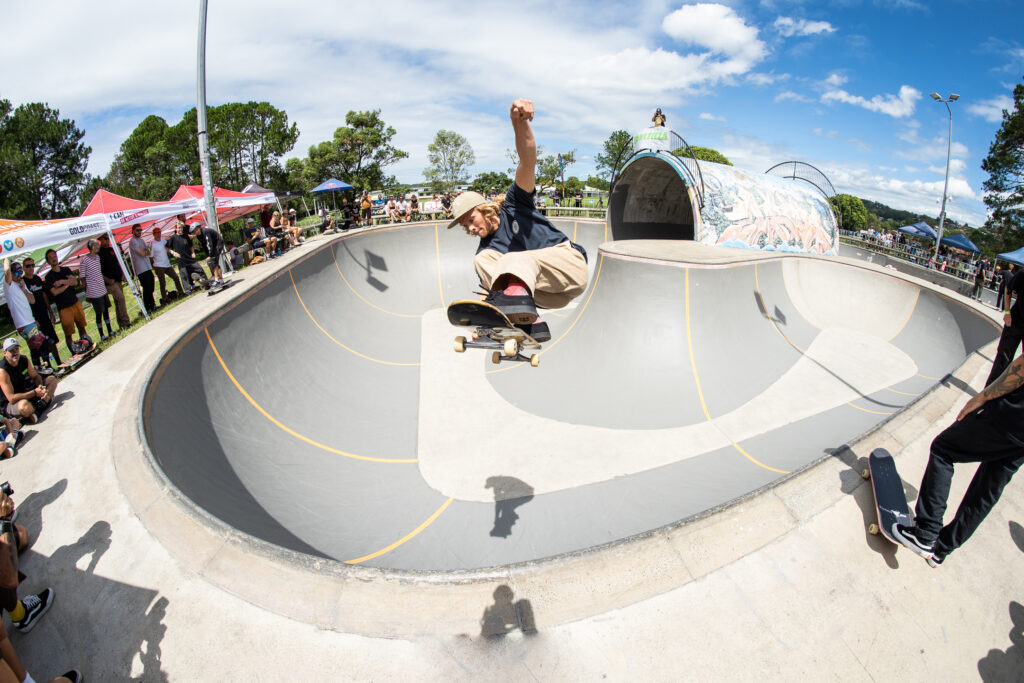 It's ramping up to be a monster week on the Gold Coast, with festivities kicking off on Tuesday. They've whipped together a jam-packed programme featuring art, live music, learn-to-ride clinics, food, epic parties, and of course the competition on Saturday March 13. Here's an edit of all the carnage that went down in previous BOWLZILLAs to get you pumped for this year's event!
We're amped to announce that Saturday night's afterparty will be held at our Coolangatta shack! Our fridges are stacked with mountains of Frothyoskos ready to cool down the skaters after a long day in the heat. Goldy rockers Local Safari are playing a live set, then we've got DJs lined up to keep the dancefloor warm 'til late.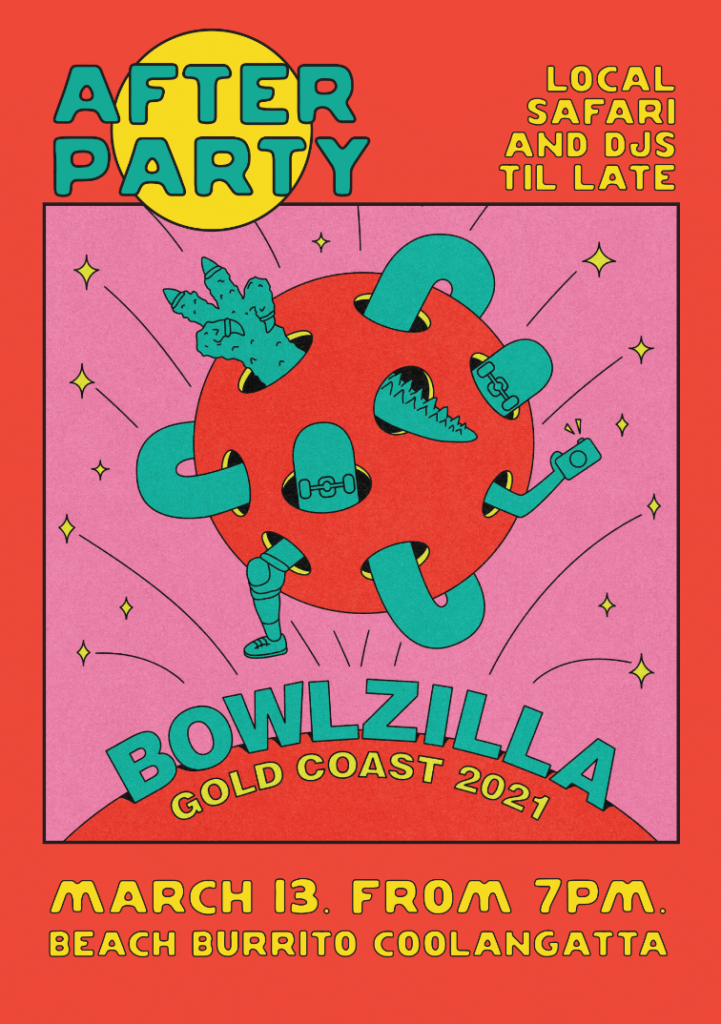 We'll also be slinging burritos for Yeah Girl's Skate Photography Workshop on Thursday the 11th. This one's open to womxn, non-binary, non-cis males aged 15+ who are mad about skateboarding and want to learn how to capture it in all its glory. You can register yourself for the workshop here.
Amongst the crowd will be skateboarder Aimee Massie, a good mate of Beach Burrito and absolute shredder. We caught up with her to get the lay of the land for this year's comp.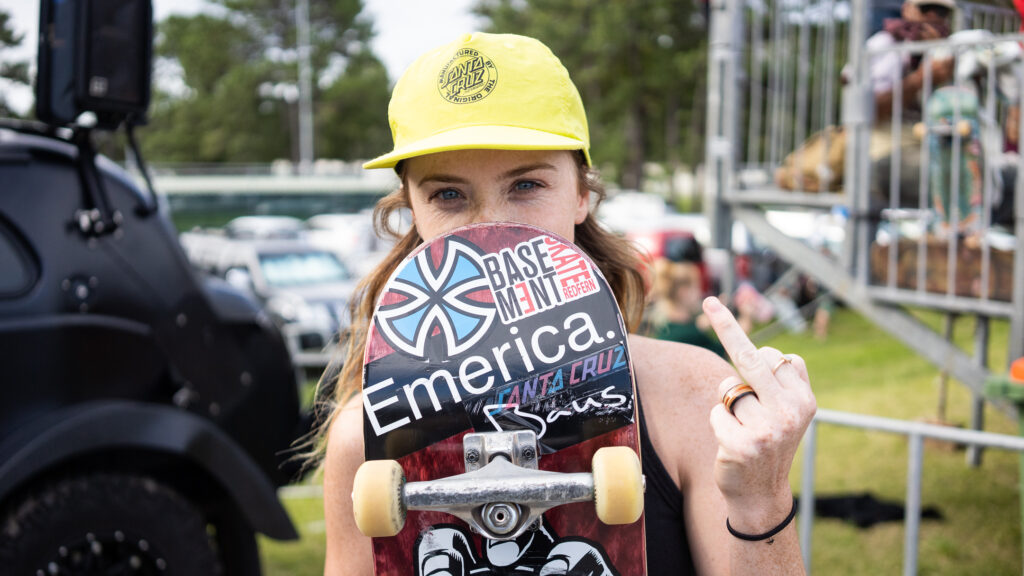 Aimee, thanks for taking time out of your busy schedule to chat with us! Imagine you're talking to a full skating kook. What is Bowlzilla and what makes it so awesome?!
Bowlzilla is a bowl contest that's been running for about 5 years now, and I've been attending the event since the first comp! It's a super unique comp because people come together from literally all over the world to shred the beautiful Elanora bowl up on the sunny Gold Coast.
Any fave memories or highlights from past years to share with us?
I mean last year was pretty epic! It was the last contest I skated pre-Covid. Just after that we all went into a huge lockdown and it's so weird to think that none of us realised how serious the world was going to get while we were skating. Another highlight was the after party – Beach Burrito knows how to turn it up!
What have you been up to in the lead up to the comp?
Leading up to the comp I have been suuuuper busy. I've started my own YouTube channel, and have been really giving my all to this vlog life! I also just got back from a contest in Tasmania, and it feels so good to travel again – to get on a plane and just get away! My Tasmania Vlog should be out in about 2 weeks so make sure you are subscribed to my YouTube channel to see what I got up to.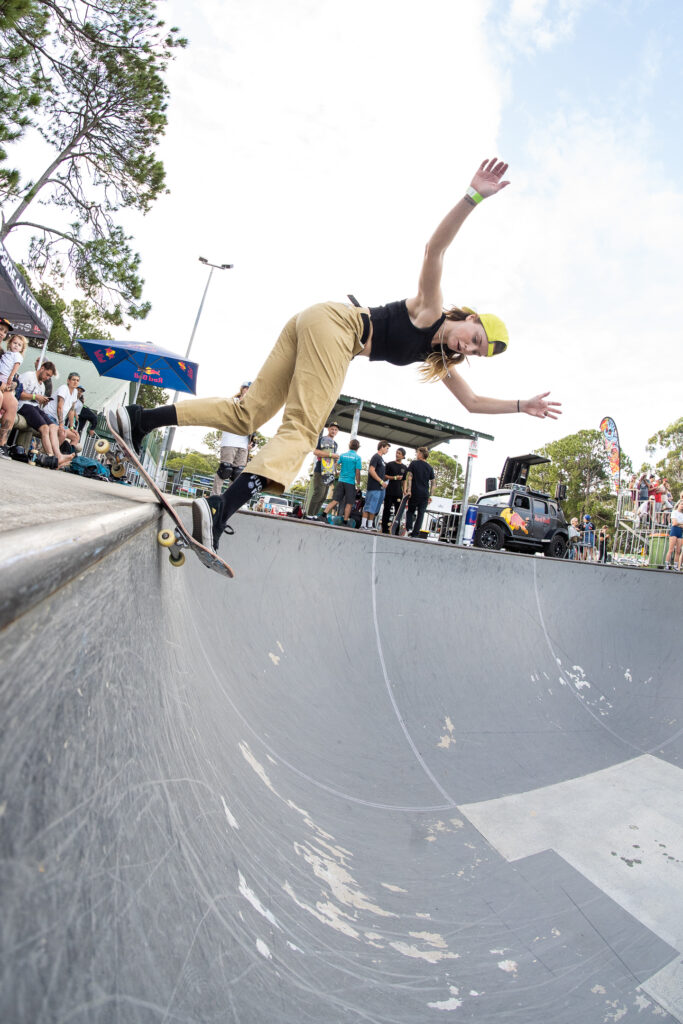 Run us through your plan for the day. Any pre-comp customs? How are you gonna celebrate after?
On comp day I usually wake up early and eat a huge breakfast, stretch my body out a little bit, then jump straight in the bowl and warm up. There is normally a lot of waiting around for your runs so I like to bring a picnic blanket to chill on with my friends and family. After the contest I go shower and get ready for the after party at Beach Burrito. We usually get a bit of karaoke from the locals and everyone is up for a boogie, it's definitely a night you won't forget!
Any up and coming underdog skaters we should look out for this year?
100% I think there's a few girl shredders you haven't seen before. A little birdy told me some young guns are coming this year! Another one to look out for is the one and only Kieran Woolley, that kid is unstoppable. Ohh and I've been skating some big bowl lately so watch out girls haha!
Hell yeah Aims. Good luck for the comp, we'll catch you at the bowl! Get pumped amigos, this one's not to be missed!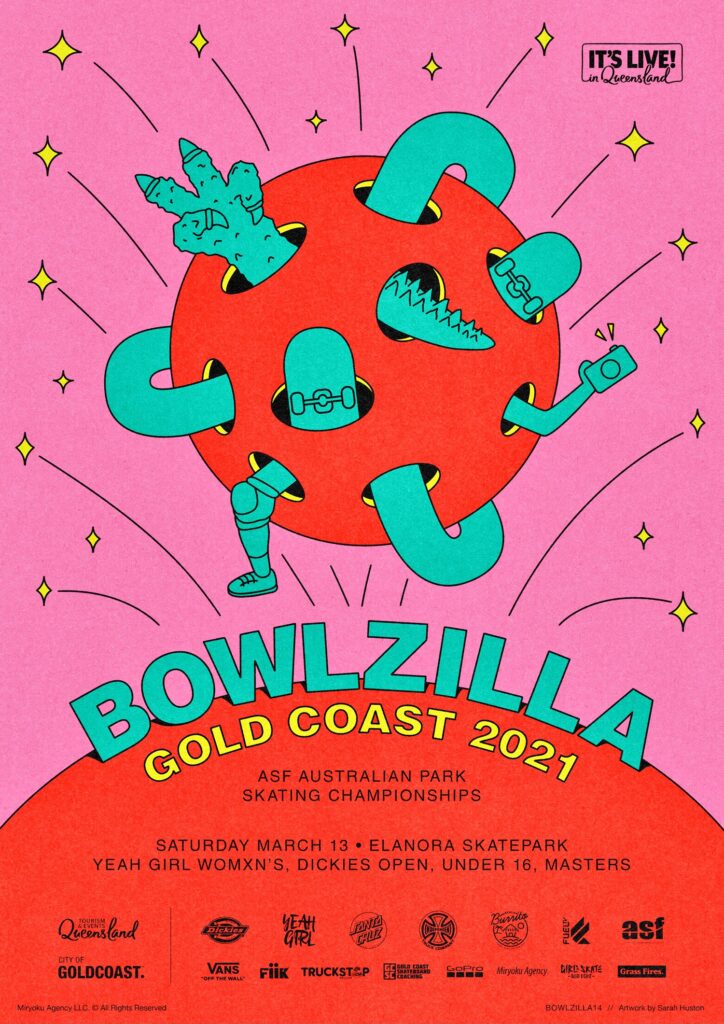 Photos by Yeah Rad.

Words by Tess Fuller.